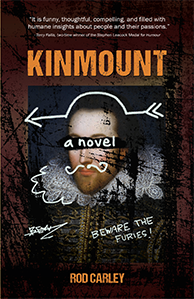 "Rod Carley's KINMOUNT is a hit that kept me laughing and turning the pages from curtain to curtain. It is funny, thoughtful, compelling, and filled with humane insights about people and their passions. Not since Robertson Davies' Tempest Tost has a community Shakespeare production been so much fun."
– Terry Fallis
 Two-time winner of the Stephen Leacock Medal for Humour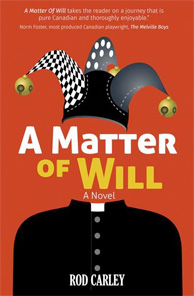 "What a wild RIDE!!! So many sub-stories within the larger lessons that Carley reminds us of. I have to imagine as a first novel, somewhat autobiographical, partly story and definitely a blast to read. Unbelievably well researched and you can tell, written over many YEARS! Can't wait for the next book Mr. CARLEY!!!"
– Dean Avery

"Built on a solid story with fully rounded characters, it has a distinctly Canadian flavor. Witty, dark, poignant, clever, I read to the end quickly then returned to some scenes to savor more slowly. For those with a knowledge of the Canadian theater world and/or Newfoundland, it has another layer to enjoy. Some scenes are so minimally and perfectly drawn that they would make good theater. I recommend end this book and am anxiously awaiting Rod Carley's next novel."
– Gillian Leek

"I really enjoyed the main character's eclectic experiences. His time fasting on the East Coast was one of my favourite sections. Having Rod read to our book club was wonderful. I'm glad that he's making an audio book. His East Coast accent added even more humour when reading the words. This is a must read for all – especially Canadians! I would love to see this book on Canada Reads and it should be nominated for Stephen Leacock Humour award. One of my favourite quotes: " The opposite of fear is love"! Thanks for sharing your many talents Rod."
– Jodie Nychuk

"This is a rollicking, wild ride filled with comic adventures and pointed truths about life and an actor's struggle to find meaning. Carley's protagonist, Will Crosswell, starts out as a young, callow artist filled with notions of grandeur. A couple of hilarious theatrical mishaps land him out in the cold and working in a rough and tumble call center with a cadre of skillfully drawn eccentrics in an extended central episode filled with outrageous incident and riotous dialogue. After a number of less-than-successful love connections, Croswell embarks on a once-in-a-lifetime spiritual pilgrimage to beautiful but freezing cold Newfoundland where he will be tested in ways that allow Carley to explore what it means to be pushed to the limits of endurance – physical and emotional. I especially enjoyed the occasional flashes of (is it or isn't it?) magic realism in the final third of the novel. Carley demonstrates in his entertaining and imaginative prose how age, experience and 'crashing and burning' more than a few times in life can help lead us to a little more wisdom, a little more understanding and a better connection to spirit. Highly recommended!"
– Jeff Miller

"In this fable-like tale, author Rod Carley proves that he has a deft touch with story and character. A Matter of Will takes the reader on a journey that is pure Canadian and thoroughly enjoyable."
– Norm Foster, Canada's most produced playwright

"I much admired Carley's comic mastery. The phantasmagoric scenes of Will Crosswell's forty Dark Nights of the Soul in Witless Bay, Newfoundland are grotesque comedy such as has been rarely seen in Canadian writing and how refreshing it is! Who but Rod Carley would have invented a spiritual picaresque!"
– John Metcalf, Author, The Museum at the End of the World

"Rod Carley's terrific ear for dialogue brings the worlds of theatre and telemarketing to life in a breezy picaresque about the spiritual redemption of a dissolute rake."
– Allan Stratton, The Way Back Home and The Dogs

"A Matter of Will is literate – Dr. Seuss and Shakespeare get equal weight – but never ponderous. Funny, but never trivial. Poignant but never maudlin."
– Donna Sinclair, Author, The Long View

"A Matter of Will is an unholy mix of Withnail and I, Glengarry Glen Ross, and an east coast kitchen party. Taking us from the Toronto theatre scene in the 1980's to a remote Newfoundland outport in the present day, it's the perfect cautionary tale for anybody contemplating a career as a Canadian actor … I'm only sorry I didn't read it when I was 17; I could have saved myself a lot of trouble."
– Chris Earle, Playwright, Radio:30

"A wonderful read. Carley writes like he's recounting a story to a friend in a Tavern – and what a great story it is!"
– Patrick McKenna, Actor

"This is a fun and immersive read. Rod Carley's humor is quick-witted and visual. Rod paints the scenes beautifully enabling you to truly travel with Will on his personal odyssey. Everyone will enjoy this read but if you are Canadian it adds another complete layer of enjoyment. Buy and read this book, you will not regret it! Mr. Carley's First Novel Has Won me Over as a Future Loyal Reader."
– Eric McKenzie

"Well done "b'y"! Did I ever enjoy every line of Mr. Carley's book. It was hard to believe it's only his first novel.
I liked this book so much that I actually took the time to mark favorite lines and passages that fairly jumped out and grabbed me. I reread them. I remained thoroughly engrossed as Will triumphs at theater school; begins a promising career in the Canadian theater scene; until everything blows up in his face (his own fault) and he finds himself working at a Toronto call center. But that's not the end of this story. He goes searching for an epiphany in a freezing Newfoundland outpost.
This novel has an abundance of eccentric and off-beat characters. You'll read about sex, lies, dysfunctional relationships and shattered dreams.
It offers consistently witty dialogue and heart-wrenching observations of the human condition.
Mr. Carley's writing compelled me to keep reading. I didn't want to put this book down, and that's a rare talent. That's the main thing avid readers hope for. He delivered. He delivered and I can't wait to read his next novel."
– Laura Grealis

"I laughed out loud reading this book. The characters are wonderful and the descriptions create vivid pictures. I recommended this book to my bookclub and everyone loved it!"
– Darlene Laferriere

"Featuring cameos from Margaret Atwood and Saint Peter, Mr. Carley's A Matter of Will is a facetious and bighearted debut which combines the best traditional Canadian storytelling with a memorable modern voice. It follows the endearingly hapless Will Crosswell through cannibalistic minefields of modern theatre, describes his travails in call centre purgatories, and casts him into Newfoundland backwaters, where he's gone to seek God.
Will Crosswell's path to the ministry is both intense and funny, reminiscent of Dostoevsky in places. He sees the clergy life as another means to acting, and travels to Newfoundland, embarking on a 40 day fast in imitation of Christ's desert journey. The ending strains credulity, but satisfies.
Replete with memorable characters, A Matter of Will's dialogue particularly shines, recalling writers like Mordecai Richler and Douglas Coupland. Mr. Carley's decades of theatre experience are nowhere more evident than in his command of accents. His take on cubicle culture is hilarious, depressing, and ultimately accurate. Hopefully, he will revisit the call centre setting in future work.
Funny, entertaining, and heartfelt, A Matter of Will is an excellent addition to Canadian canon."
– Chris Fash

"A genuine and unsettling cautionary tale describing a life in the theatre and a must-read for anyone foolish or misguided enough to be considering it."
– Paul Thompson, Canadian playwright and theatre director

"Rod Carley's book, A Matter Of Will is a delightfully wicked romp that follows the eponymous Will on a journey that is always fascinating, unexpected, and, at times, hilarious. Rod Carley's language is as colorful as the characters he has created."
– Peter Colley, Playwright

"A Matter of Will is a tip of the hat to such literary lions as Robertson Davies and Mordecai Richler. Carley's novel draws on their inspirations and themes and mashes them up, bringing his own unique take. A Matter of Will travels through five decades, taking us from the sixties to the aughts and beautifully takes us back to the Canada of those times. A Matter of Will is a nostalgic journey through Canada's artistic and physical landscape that ends in a uniquely Canadian story of redemption."
– Derek Diorio, Producer/Director/Co-writer of Hard Rock Medical